Matching the correct individual to his or her health data is critical to their medical care.
Blockchain technology may not be the panacea for healthcare industry challenges, but it holds the potential to save billions of dollars by optimizing current workflows and disintermediating some high-cost gatekeepers.
Healthcare Systems fabric is changing towards a patient data-centric approach i.e. affordable quality healthcare anytime and anywhere. Quality healthcare is faced with a gap between the healthcare provider and the patient's affordability. Affordable healthcare suffers blockage of patient information.
Insurance seems to be the only way to avail healthcare. But the healthcare insurance is infected with frauds. Counterfeit Medicines is another problem causing sufferings to the patients.
There are few challenges with the traditional system of healthcare and as follows:
Patient Record maintenance - If this is in Paper format, instantaneous access to critical data at the need of the hour is limited. In the case of electronic records maintenance, higher cost of Information systems infrastructure, baffles the hospital management, limiting information access to select few stakeholders, in spite of having gadgets like smartphones. This creates "Trouble of Identifying the Patients"
The correctness of Data - Even if the records are maintained electronically, the correctness and completeness of the data are questionable. When a hospital maintains patient history, the average error rate is 40%. Very pathetic situation. Further, these records are not so easily accessible to other healthcare centres, limiting the patient's open access and choice of place to take treatment.
Security of Electronic Records - These electronic records at hospitals are also vulnerable to hacking because of the poor technical knowledge on information security requirement, on the part of hospital authorities. Not only electronic records, but medical equipments connected on the LAN are also vulnerable to security.
Counterfeit Medicines in Supply Chain - The estimated losses per year is $200 Billion other than patient sufferings. This is a menace for both the manufacturer and user.
Process Management do not have a matured system for Multiple players access to information or exchange of information. Interoperabilty of Healthcare is a major challenge for both policymakers and patients.
Data Breaches - Misuse of the patient record and information leak. Once a breach at Anthem Insurance affected 78 million people.
Insurance Fraud is estimated to be approximately $68Billion in the United States of America alone.
What is next-generation Healthcare?
The patient needs anytime anywhere affordable healthcare. Thus healthcare system is expected to be a trusted, transparent, accessible, available, and affordable solution model. The blockchain addresses four different problems with the inclusiveness the above-stated characteristics as in figure 14.1.
Patient data-centric life long health record
Drug Supply chain management
Health claims management
Insurance Fraud mitigation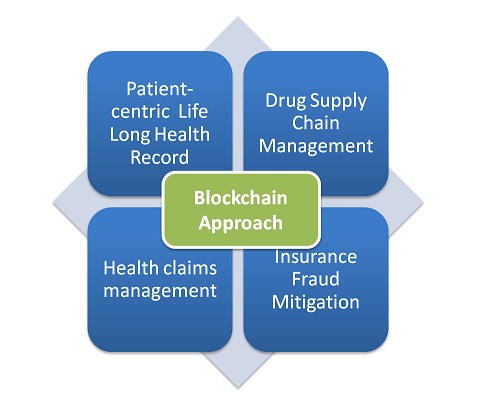 BIS research report states that Blockchain solution in healthcare can help save $100Billion a year by facilitating cost cut down on Operational costs, IT operations, data-breach related costs, support functions, counterfeit frauds, insurance frauds etc. Healthcare market growth is expected to be 64% from 2018 to 2025. IBM estimates that 72% of healthcare providers will shift to Blockchain solutions by 2020.
The American College of Surgeons Bulletin states,
Healthcare has become increasingly "Datafied" and Blockchain Technology can create "Convergence point of Healthcare Information".
The current scenario is medical history and medical data are in Silos or available with limited sharing capability. Blockchain enables targeted, secured sharing of both medical history and medical data across the B2B and B2C. Further, this brings out the potential value of healthcare information by enhancing the quality of healthcare with reduced cost and improved patient experience. Let us have a case study explained, using figure 14.2.
Case Study of Healthcare Blockchain
As mentioned earlier, figure 14.2 addresses all the four expectations of the next-gen healthcare solution. Permissioned, Private Blockchain is the preferred model for healthcare for obvious reasons. It could also be a Consortium Blockchain if the application is made with a liberal sense of services. Blockchain is resilient. The distributed ledger is tamperproof and also verifiable. Generally, healthcare Blockchain works with PoA (Proof of authority) as the consensus mechanism.
Healthcare solution is built over the Blockchain layer. As we know, the Blockchain layer is a distributed network environment, with no central authority and with no middle man. Most likely that the BCT uses DLT as the underlying data storage. All the functional requirements like Consensus Protocol, Hashing algorithm, Cryptography, PKI, Block mining and block storage are taken care of in a modular way by the BCT configuration. This also includes Membership services for the users, Identity and Access Control Management, Smart Contract services, Business logic Policy management, Interconnectivity and interoperability with other IT solutions, Application Program Interface(API) for the users and SDK for developers. Most of the services are modular and plug-n-play type.
Smart Contract is a code that implements the business logic relevant to various stakeholders and the events. For example, the Smart Contract code for Manufacturer will be different from that of Distributor or patient, etc.
Digital Identity Management
Includes the identity of all the participants in the network like Patients, hospital staff, doctors, a unique device identifier for each medical equipment, the insurance companies, billing, claims, pharmacy, medicine supplier, medicine manufacturer, logistics organizations, etc. It is important to have the identity of the members. Pseudonymity is insufficient in healthcare.
Application Layer has the Stakeholders of the network. Services to this layer are provided by the BCT layer. All functionalities of healthcare are brought into this BC network.
Health Supply Chain Management
Compliance and life cycle management of medicines, pathological supplies, waste disposal are very important for a trustful and truthful treatment. The Medicine manufacturing plant, the storage Warehouse, the transportation logistics, Drug Distributors and Pharmacy are all part of the Pharma Supply Chain. Inclusion of all these members enables the Traceability of medicines. The medicines are EPCIS (Electronic Product Code Information system ) coded, which is part of GS1 standard so that those become offline assets in the Blockchain.
Patient Record Management
When a patient undergoes treatment at a hospital for illness, lots of medical tests are done. But while getting discharged after treatment, generally the patient is given a discharge summary and few of the reports for the tests taken. The complete day to day details is unlikely to be there in the Discharge summary. With Blockchain, the patient's life monitoring can be brought out as a chronological set of records. This record is updated by hospitals, labs, and possessed by the patient i.e the patient has control as to with whom he wants to share the personal health record.
Further, when he takes medication at some other hospital, in the next instance, the medical data is instantly accessible to the doctor electronically. Thus, one holds the secure, updated health record for instant treatment, anywhere anytime. Information blocking by hospitals is avoided with Blockchain. As a member of the Blockchain, the patient can set the desired identity and access control settings for his health record.
Hospital information system
Every hospital has some kind of Information system in place for day to day activities. This system enables the hospital management to monitor staff, doctor, equipment, patient and also generates reports on treatments and tests. An interface to Insurance organizations may be required for the settlement of treatment bills. Patient health record updation is done by the hospital information system. Many of the medical devices get connected over LAN, so that test reports are shared in LAN. You can see all these stakeholders being there in figure 14.2. Immutable records and reports are generated by the hospital information system, with the advantage of the blockchain.
In many countries, health insurance is mandatory. Many employees have insurance support from their employer. These insurance policies of individuals are referred by the hospital to know the eligible treatment. Hence Insurance players are members of the healthcare blockchain network. The necessary access rights and business logic Smartcode can be configured by the Insurance player. The smart contract embeds the rules of health insurance.
The hospital gets the payment from Insurance firms as part of cashless treatment, or the individual takes a claim after the treatment from the insurance firm. In fact, at this stage frauds do happen with bogus claims. This can be mitigated with this blockchain healthcare, as there are no central server or no middle man.
Hospitals are accredited by governing agencies; compliance is required as stipulated by the regulator. The regulator interacts possibly with Supply Chain for drug regulation, insurance for any ombudsman activity, a hospital for overseeing and inspection. The patient may also contact the regulator, in case of any dissatisfactory service from any drug manufacturer, insurance or hospital. Hence the need for the regulator to be present in the blockchain network.
Thus the secured interconnection of all the members brings synergy to the healthcare system.
Advantages of Blockchain in healthcare
Since BCT is immutable and tamper-resistant, patients can share their health data without the fear of mutilation, at the same time with full control over selective sharing.
Secure way of chronologically adding records to the healthcare blockchain ensures the proper history of treatment.
Transparent and secure Supply Chain helps Pharma companies to stop false medicines floating in circulation.
Insurance Frauds by unethical service providers and false claim by patients is mitigated.
Internal infrastructure like medical equipment's utility can be monitored.
Allows multiple entities to be in sync and share data in a DLT.
Blockchain solution in healthcare unveils Information blocking and the trouble of identifying patients. Information blocking is about the unreasonable restrictions put on sharing patient health information.
The presence of Regulatory authorities oversees compliance of regulations in Healthcare and satisfactory service to patients.
Healthcare blockchains are in use. To mention a few, California based GEM healthcare network uses Ethereum Blockchain. Provides access to patient, doctors, insurers to data in realtime to speed up services. PokitDoc develops API for healthcare verticals for the secure exchange of health data. Patientory enables blockchain-based health record maintenance by users. One can store and manage their life long health record. Chronicled is a supply chain traceability system that tracks pharmaceutical supplies, blood, organs etc. FarmaTrust is another trace and track supply chain solution for B2B in healthcare. There are many more which you can get with further reading links or Google.
More Use cases are available in Energy sector, Diamond Industry, Real estate, Digital rights management, Finance, e-governance, etc.